Loving all of these Blog Hops!
If so, I'll be slowly listing a few Friday Blog Hops here and the first one I just added myself to is Social Parade On Friday. The rules are easy, along with the opportunity of experiencing Blog Hops, gaining followers, discovering other blogs or even meeting a few more blog friends.
This particular Blog Hop is being hosted by Smart Trendy Moms & so worth stopping by to see this blog.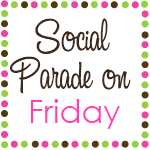 After adding your blog to the Social Parade On Friday Hop, feel free to follow my blog if you would like and I would love to return the favor.
Happy Blog Hopping Friday!